post by Clara Galanti published on AcciaioArteArchitettura n65
An inborn lightness runs through Enrico Benetta's work. Whether they are paintings, sculptures or installations, this fact always remains unchanged and becomes almost magical when we think of the main material he uses: steel.
Benetta finds the right balance between intangible and tangible, between word and matter, and he tells the long story of the verb and time, infancy and change and, above all, of poetry.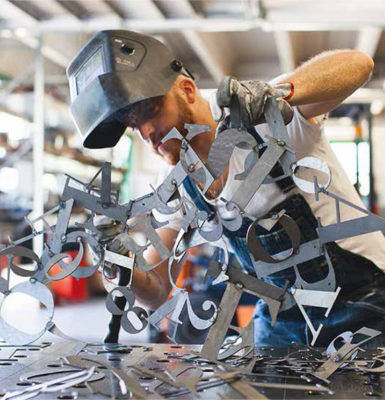 Well known symbols emerge from the artist's sometimes dreamy world that grasp their common roots and lead to a profound reflection on the sense and weight of the word, its being that at the apex becomes liberation.
Bodonian printing characters fly, move from the past to the present in a circular movement that accompanies human existence and give it meaning.
They surface and sink into the matter, sometimes like tangled recollections, sometimes like flashes that fleet past but still leave their mark. Letters and numbers leaping full of life, like independent entities released from all form, releasing a creative energy that describes a constantly evolving thought.
Steel is the preferred material to give body to Enrico Benetta's images, lightweight steel that becomes curved and soft, and sometimes is matched with canvas and colour, terracotta and glass. Magnificent works are born, multiple material stories that fill halls and our eyes, each time suggesting new stories to the observer.
From warm corten steel, which has always offered the characteristic style to the artist's creations, to his recent approach to the highly luminous mirror finish stainless steel. Mirror works that capture light to wear it, forming a key to the artist's soul who, as a man, storyteller and juggler of words and images, expertly tells a great story, that of life itself.